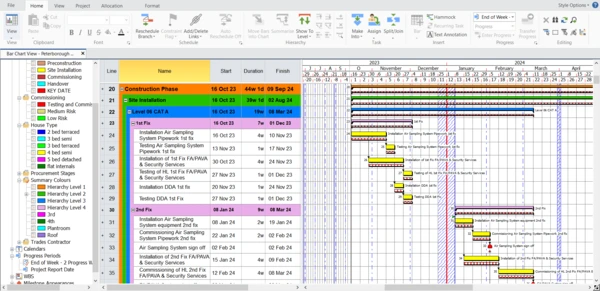 Project Programming
Creating or developing existing programmes for preconstruction and construction phases to support tender bids or live projects.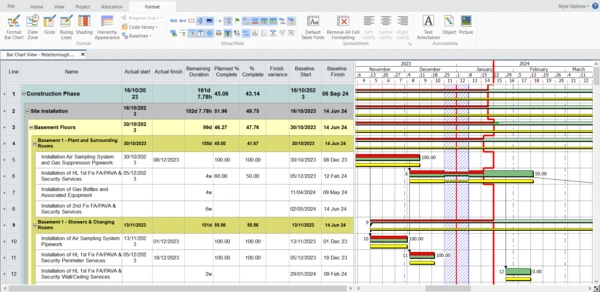 Progress Reporting
Accurately recording progress data to ensure detailed records are maintained whilst comparing variances against the planned programme.
NEC Compliance
Updating your existing, or creating a new programme, to be fully compliant with the programme requires of the NEC form of contract.
Discover our Range of Professional Planning Services.
We provide a comprehensive range of planning and programming services, encompassing tasks such as developing new programmes for tender or construction phases, adapting programmes to meet the stringent demands of NEC contracts, integrating costs and resources, and tracking progress of live projects whilst promptly reporting any deviations from the established baseline. Our expertise extends to conducting meticulous delay analysis and compiling as-built records. Lastly, we offer a critical eye to review your programmes, ensuring that they adhere to the highest standards of best practices.
Sample Pricing for Frequently Requested Services:
progress reporting
£60
Creating a new weekly progress period, entering progress percentages, and producing a report.
review and update
£120
A comprehensive review and update of an existing programme to conform with best practices.
Nec compliance
£180
A review and update of your existing programme to ensure compliance with the NEC3/4 contract.
Tender programming
£400
Create a new construction phase programme from drawings to support a tender submission.
cost reporting
£150
Add costs to an existing programme, generate monthly cashflow reports, and cost/income graphs.
NEC compensation events
£75
Impact an existing programme with a Compensation Event under the NEC contract.
*All prices listed are subject to specific service requirements and the number of programme line items
Contact Us
Feel free to connect with us to discuss how we can cater to your project planning and programming needs. You can get in touch through our contact form or simply send us an email at info@astapowerproject.co.uk, including your project details and any specific requirements. If you have any documents to attach to your inquiry, please feel free to do so and we'll promptly review them. We're excited to hear from you and collaborate to achieve your project objectives.